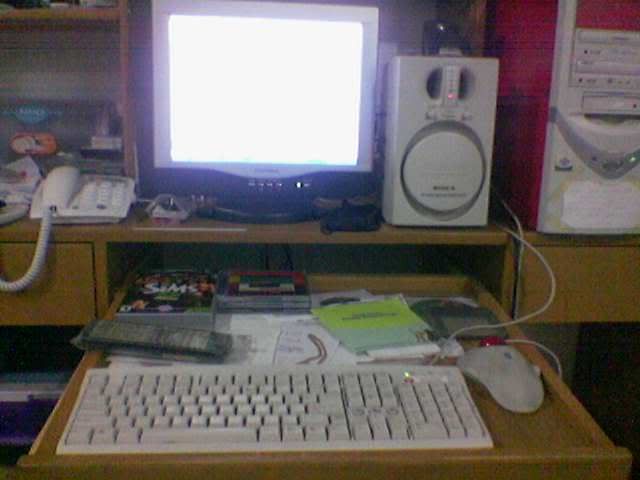 I'm a trackball user. I have learned to be more comfortable with it than with the mouse. And since you don't use the unit by moving it on a surface, it uses minimal space on your table. Most people can't seem to get use to controlling the windows pointer by moving the ball with his fingers. Isa nanamang rason kung bakit ako abnormal.
I have been using my trackball for about 4 years now. And it's beginning to go out of control. I clean it about once a week but it seems that it has served it's purpose. I needed a new trackball.
Kugel suggested that I switch back to using a mouse. But after sending him a picture of my messed up computer table, he agreed with me that I should just stick to trackballs.
I'm so lazy to clean up my room!
Ang hirap palang maghanap ng trackball sa panahong ito (parang napaka tanda ko na). Most of the trackballs I see in stores now, kung meron man, ay yung ball nasa side. Kumbaga yung thumb ang magco-control ng ball. I will never be contented with that since may (slight lang naman) arthritis ako sa thumb ko (ah, there ya go. Matanda na nga ako). Wala akong nakikitang nasa middle yung ball. Kung meron man, hindi ko yata mapagkakatiwalaan pa yung brand. Meron akong nakitang Grace ang brand. At maniwala man kayo o hindi, nakakita ako ng brand
Will'n Grace electronics
. Ito yata ang trackball ng mga bading. Pero mahirap nang gamitin yun. Baka matabi lang sa isa pang pointing device bigla na lang sumemplang.
Will'n Grace trackball: "Nababakla ako sa kagwapuhan ng Logitech trackball sa kabilang mesa! At tignan mo yung isang A4 mouse sa laptop! Ang cutie niya!"
[buzz!] [buzz!] [crackle!] [bling!] [blop!]
At nasira na ang baklang trackball.
Pero INAKOPOWAWIE! Pagkalipas ng ilang minutong pagmumuni-muni ko sa festival mall, nakakita ako ng trackball sa TCA. It's exactly the same trackball unit as what I already have. Pero kulay blue na yung ball instead na red. Sosyal. Atenista na siya, hindi na... uhm.... Bene. Asenso! Wekekekekeke.
Lait, lait, lait.
Saan kaya na-klepto ng TCA ang mga trackball na ito. Eh, mukhang panahon pa ni Mahoma yung mga units, eh. Heto ang System Requirements:
- Windows 95/98 (Ngyiii! Hindi man lang umabot sa Windows ME)
- Hard Disk drive (D-d-d-duh!)
- 3.5" Floppy drive (Limang taon na lang, baka wala na sa circulation ang floppy)
- MD-6 pin PS/2 port or 9 pin serial port (at least, umabot pa siya sa panahon ng PS/2)
- IBM PC 486/586/Pentium compatible (May nakakatanda pa ba sa 486 processor? Ehehe ehehe)
Well, at least I have a new trackball. No complaints. :)
*****
I also bought a DVD copy of Crying Ladies. No, it's not for me. It's for my Mom. Hindi pa niya napapanood, eh. Well, okay, it's for me too. Coz I like this movie. It's funny. At isa din akong Sharonian! Tuwang-tuwa nga ako nung nagshooting ng Madrasta sa kapit-bahay namin nung college pa ako. ;) Nakita ko pa si Rico Yan. At si Claudine... mukhang hindi pa nagpapa-abort ng baby.
AY sorry! Nasobrahan nanaman ako sa
TABLOID
!
Balik tayo sa Philippine Star... Entertainment section.
LOL.
I already told my Mom that I bought the DVD movie. She might watch it tonight. Siyempre I have to be with her. I'm the only one in this house who knows how to operate the DVD player!
... and the digital fax machine
... and the Beemer
... and the antique compo
... (dot, dot, dot)