A 48-hour head ache and a more than one day old fever was just too much for me. I didn't have a good rest last night at all. The throbbing in my brain couldn't get any worse. So after breakfast, I went to the Asian Hospital's ER and had myself checked-up. They did a blood test and a urinalysis but found nothing. The doc concluded that it was just a fever gone crazy. As a last resort, the doc gave me a strong pain killer through IV. The tragedy of it is that they don't know how much I hate needles! And after 30 minutes the headache is gone! Isn't it amazing how a terrible pain can be cured in just a few minutes by a simple (icky) injection (done by a cutie nurse). And since the pain killer is still in my system, I feel like I just smoked pot.
Peace, pare!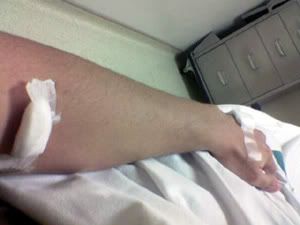 Blood sample was taken from my arm and the pain killer was injected at the back of my hand.
The doc who checked-up on me was the same doc who treated me for that nasty cut I had on the head due to an accident at the gym some months ago. When she saw me, she said:
"And who tried to kill you again this time??"
And the guy nurse who attended to me looked like my ex, Derrick. CUTIE!! La lang. Share ko lang.
I will probably sleep the whole day today, thanks to the pain killer. NOW I know why Tita Lou treats pain killers like best friends. Because they're nice!